The World Championships: A recap.
A good organisation
From what I saw, the organisation of these championships was very good thanks, among other things, to 400+ volunteers. The competition hall configuration, with the floor placed diagonally and the light show, was interesting and the multilingual announcement by Niels Daniel was impeccable.
The competitions ran smoothly and having a full house for the finals was heartwarming.
Marina the Great
Yes, Marina Chernova won her third world title, her second with current partner Georgii Pataria. What was even more impressive is how they won. All their routines had a difficulty score above 3.0 which is more than half a point above their nearest opponents. If I'm not mistaken, the 4 dynamic elements in their combined routine are 4 triple saltos and their balance elements are as difficult. In their dynamic exercise, they also have a full in full out straight. This extreme difficulty didn't stop them, however, to get the highest execution scores in their category. All this is why, in my humble opinion, Marina is, and will remain a great lady in the history of the Acrobatic Gymnastics.
Belgium: finally!
After legitimate hopes for medals were met with disapointing results in 1999 in Ghent for Kaat Croubels and Tine Dewaele, in 2007 in Puurs for Maaike Crocket, Soen Geirnaert and Corinne Van Hombeeck en during these Championships for Robin Casse and Vincent Goffaux, it is the mixed pair Marte Snoeck and Bram Roettger who finally gave Belgium its first World medal on home soil.
The first photos are published. Please be patient while I'm preparing more of them. Thank you.
2018-04-19
Les Championnats du Monde: Un récapitulatif.
Une bonne organisation
Pour ce que j'en ai vu, l'organisation de ces championnats fut très bonne grâce entr'autre, à l'apport de plus de 400 volontaires. La configuration de la salle avec le praticable en diagonale et les jeux de lumières, était intéressante et la présentation multilingue par Niels Daniel, impeccable.
Les compétitions se sont déroulées sans délais ou problèmes et le fait d'avoir une salle comble pour les finales fit plaisir à voir.
Marina la Grande
Oui, Marina Chernova a décroché son troisième titre mondial, le deuxième avec son partenaire actuel, Georgii Pataria. Ce qui est plus impressionnant encore, c'est la manière avec laquelle ils ont remporté ce titre. Toutes leur routines ont un score de difficulté supérieur à 3.0 ce qui plus d'un demi point plus élevé que leurs plus proches concurrents. Si je ne me trompe, les 4 éléments dynamiques de leur exercice combiné sont 4 triples saltos et leurs éléments d'équilibre sont tout autant difficiles. Dans leur exercice dynamique, ils y ajoutent un full in full out tendu. Cette difficulté extrème ne les empèchent toutefois pas d'obtenir une note d'exécution plus haute que tous leurs concurrents. Et c'est cela qui, de mon humble opinion, fait que Marina est, et restera une grande dame dans l'histoire de l'Acro.
La Belgique: enfin!
Après que des espoirs justifiés de médaille furent déçus en 1999 à Gand pout Kaat Croubels et Tine Dewaele, en 2007 &agrave Puurs pour Maaike Croket, Soen Geirnaert et Corinne Van Hombeeck et lors de ces championnats pour Robin Casse et Vincent Goffaux, c'est finalement le duo mixte Marte Snoeck et Bram Roettger qui a donné à la Belgique sa première médaille mondiale à domicile.
Les premières photos sont publiées. Veuillez faire preuve de patience pendant que j'en prépare d'autres. Merci.
The World Championships - The last finals
These World Championships ended with the finals in the Women's Pairs, Mixed Pairs and Men's groups categories.
The women's pairs went first and "the Daria's" renewed their title from 2 years ago with a score of 29.830. The silver medal went to North Korea and the bronze to Israel.
The mixed pairs finals gave Marina Chernova her 3rd World title in a row and his partner Georgii Pataria his second. While her 3rd title is a record in the mixed pairs category, Marina is still one title shy of the women's pair Yulia Lopatkina and Anna Mokhova who won in 1999, 2000, 2002 and 2004. The silver went to Belarus and the bronze to Belgium.
In the men's group, Isreal received the highest score, China finished second and Russia third.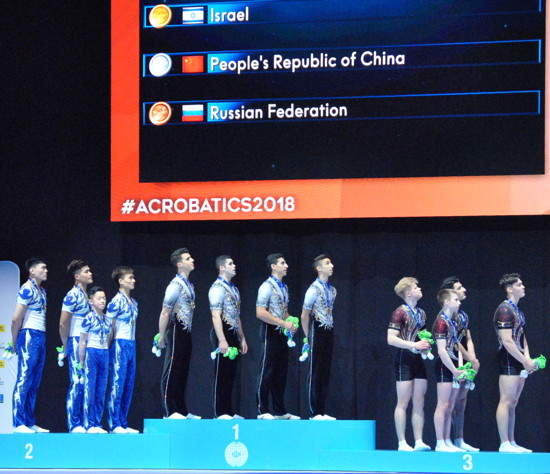 The World Championships - The team results
The qualifications came to an end this morning with the combined exercise for the women's pairs, the mixed pairs and the men's groups.
After this, the teams awards ceremony place. As a reminder, national federations enter teams of 3 units with at least 1 pair and 1 group and the ranking of these units after the qualifications are converted into points based on the nmber of countries participating in any category at the World Championships. Russia wins the gold medal with 57 points followed by Israel and Belarus, both with 49 points. Per the tie breaking rules, Israel, having a men's group in its team, wins the silver medal and Belarus the bronze one.
The medals were awarded by Rosy Taeymans - FIG TC President, Wieslawa Milewska - FIG TC Member and May Miller - FIG Acro Athletes Representative.

The World Championships - The first finals
2 sets of medals were distributed today.
In the Men's pairs category, both medal contenders, Belgium and Germany didn't perform as well as this morning and are out of luck this time. The pairs from Russia, North Korea and Great Britain performed the strongest routines giving them access to the podium and the medals. Mr Morinari Watanabe, President of the FIG distributed the gold medals to Igor Minchev and Nikolay Suprunov.
After their mistake this morning, the women's group from Israel opted for a straight handstand instead of a ring. They performed a clean routine, ending just one step away from the podium. Russia and Belarus confirmed their ranking from the qualifications to take gold and silver while China took the bronze. In addition to winning this competition, Daria Chebulanka, Polina Plastinina and Ksenia Zagoskina also had the honor to receive the medals from Mr Jacques Rogge, honorary President of the International Olympic Committee.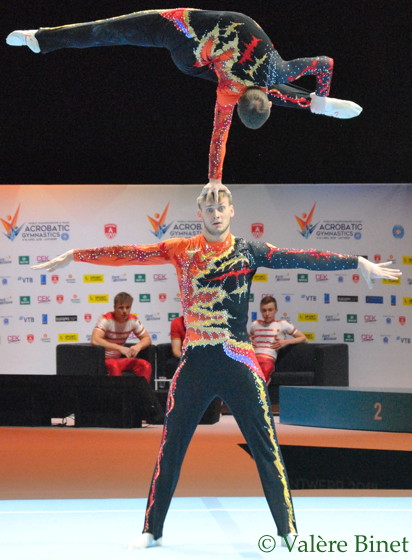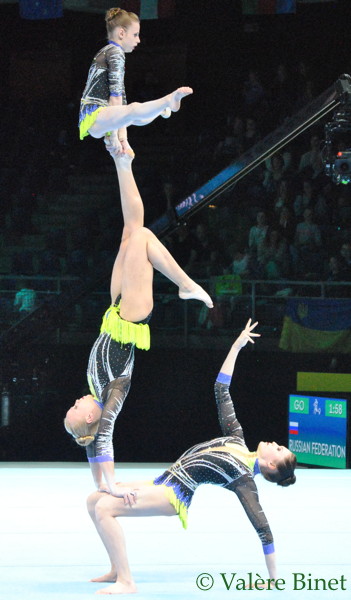 The World Championships - day 2
The day begins with the combined exercise for the women's group and the men's pairs, followed by the the women's pairs, mixed pairs and men's groups second exercise.
Igor Minchev and Nikolay Suprunov (RUS) received the highest score this morning an jump ahead of Germany in the qualifications ranking while North Korea jumps from 6th to the 3rd place. The belgian pair of Robin Casse and Kilian Goffaux remain in 8th place but with the second highest score for their combined exercise and the finals starting from zero, they remain a medal contender.
Daria Chebulanka, Polina Plastinina and Ksenia Zagoskina (RUS) continue to dominate the women's group category, followed by Belarus. The trio from Israel struggled in a motion from planche to ring and this allowed Belgium to take the 3rd place of the qualifications away from them.

Marina Chernova and Georgii Pataria (RUS) were the first to perform their balance routine and as they scored above 30 again, no one could catch up to them. Those who came the closest are Belarus 2 and 1.
In the women's pairs category, the top 3 remains the same with Mika Lefkovitts and Roni Surzon (ISR) inthe lead followed by Ukraine and North Korea.
In the men's group, only one group had an issue and it was the leaders. China 1 is therefore out of the top 3 which is now composed of China 2, Israel and Portugal.
The World Championships - day 1
The 26th Acrobatic Gymnastics World Championships are open!
After the opening ceremony, the Women's Group and Men's Pairs presented their first exercise. The general level of the competition is very high with some dealing with their nerves better than others. Of particuliar notice, one of the favorites, the Belgian Men's pair had 2 major issues and are currently only in 11th position.
Germany, North Korea and Great Britain 1 scored the highest with their balance routine.
The top of the US trio seems to have hurt herself during their performance, we wish her well and hope they can perform their other exercises. The trio from Great Britain scared the audience twice and this is reflected in their scores as they are currently in last position.
The leaders after the first exercise are Russia, Belarus and China.

The second sessions began with the Women's Pairs. In this category, the favorites from Russia also experience a problem and are currently in 6th place. Israel is leading followed by Ukraine and North Korea.
In the Men's Group category, the first 3 quatuors to perform all had problems during a pyramid transition. When China performed the first clean routine in this category, they received big applauses from the spectators. They took the lead to give it away to only their compatriotes. Israel performed also a strong routine but had to settle with the 3rd place in the temporary ranking.
The mixed pairs performed in alternance with the Women's Pairs and the Men's Groups. There was no surprise there, Russia performed an extremely difficult routine to take the lead with more than 2 full points over Azerbaijan 1, second, and Belarus 1 in third place. The Women's Groups and Men's pairs performed their second routine in the evening. Sadly, the top of the US trio is indeed hurt and didn't perform their second exercise.
Russia confirmed their dominance in the Women's Group category. Belarus keep their second place while Israel took the third one. The Men's pair from Belgium got the highest score for their dynamic routine which takes them up to the 8th place after 2 exercises. Germany could hold to its first place, they are followed by Russia and Great Britain 1.

The live scoring is available here.

I want here to thank the FIG for allowing me to cover the event as a photographer and use the media internet access to post this report. Here is a first picture of the leaders in each category after day 1.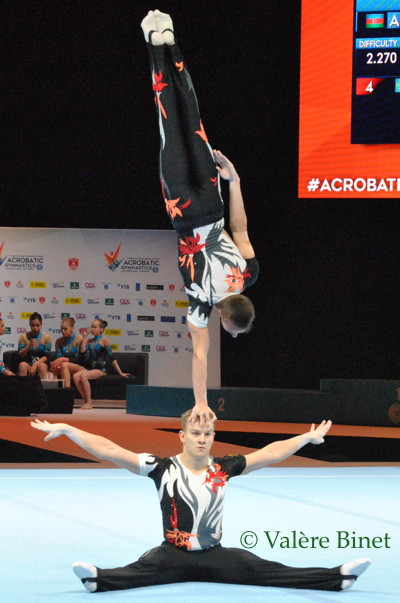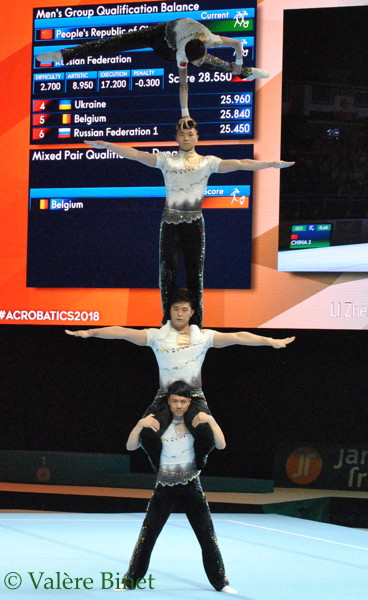 The World Championships
The FIG published several articles in the lead up to the World Championships including one about how to follow the competitions.
The organizers will also have plenty of information on their website and social media pages.
As for this website, I might have little to no access to the internet while in Belgium but I'll try my best to add my own commentary and pictures as the competition goes on.
2018-04-10
Les Championnats du Monde
La FIG a publié plusieurs articles à l'approche des Championnats du Monde, y compris un sur les possibilités de suivre les compétitions.
Les organisateurs auront également des informations sur leur site internet et leurs pages sur les médias sociaux.
Quant à ce site, il se peux que je n'aie aucun ou très peu d'accès à l'internet en Belgique. Je ferai toutefois de mon mieux pour publier mes commentaires et photos durant la compétition.